HUADE, like every company, has been affected by the corona virus in the year of 2020. However, working together with our partners, distributors and customers worldwide, such as Europe, America, Middle East and Asia, HUADE make great efforts to the growth of our company. According to the latest statistics, HUADE has completed much more projects compared with the projects finished last year mainly because of many brilliant storage solutions prepared by our partners, distributors, hard-working sales teams and HUADE members.
In recent years, some e-commerce giants have been increasing the construction of logistics and warehousing, and this pandemics has even stimulated online shopping. In order to make express delivery faster, some express delivery companies are increasing the investment of logistics facilities, and purchasing a large number of warehousing logistics equipment, such as racks, stack cranes, shuttles, etc. This trend will bring more business opportunities to some storage solution companies and equipment manufacturers.
At present, we are facing with both challenge and opportunities in the market. People around the world require the storage systems more than ever, especially the highly automatic storage systems.
Since the 1st rack clad project of a 40 meter high rack supported building for our Korean client in 2015, Huade has been accumulating lots of experience in such projects, in 2018 Huade has built a 30+ meter high rack clad warehouse with 28 stacker cranes for a large e-commerce client in Hangzhou, this year in 2020 Huade starts to build a 24 meter rack clad project with 10,000 pallet lcoations in Bejing.
Also in 2020 Huade starts to construct a 40 meter high rack clad building in its own factory which is in Nanjing city, for development and testing of hardware and software of Huade ASRS product.
Still in 2020, following a previous sucessful rack clad shuttle-carrier warehouse project in Chile, our client in Chile is constructing another ASRS rack clad warehouse, it contains 5328 pallet locations with total height of 24 meters, saving 20% of the consturction cost and a few months of the project delivery time.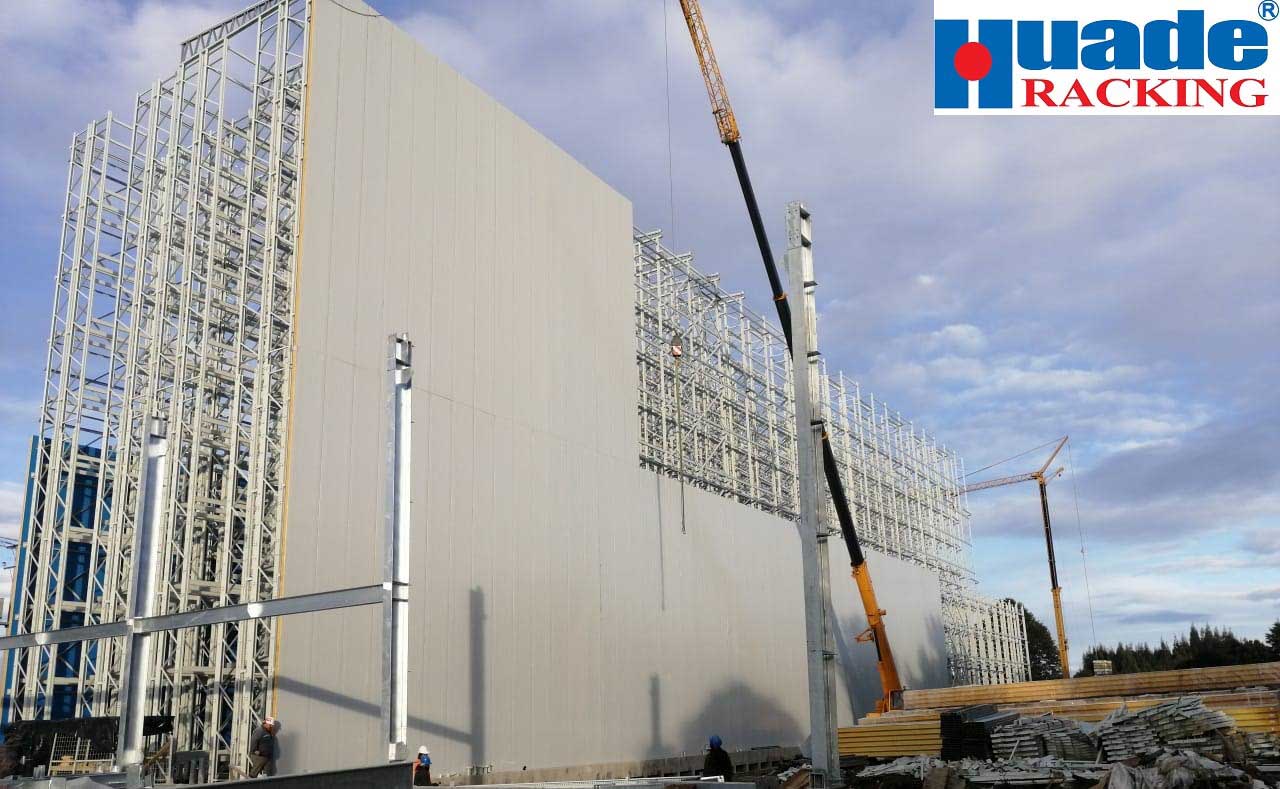 HUADE will spare no efforts in creating more intelligent storage systems, providing more optimized storage solutions, selecting and manufacturing the best products and offering most conscientious services.
---
Post time: Nov-26-2020